You may remember the well-known book of a similar name by Robert Pirsig in 1974 on motorcycle maintenance rather than garden maintenance. In fact the book was about 'quality' in life and all our actions, defined during a long cross-USA trip of discovery on motorcycles with his son.
I found it a fascinating book – very '70s, I suppose – but I loved it. He had such style in his writing and the American landscape has always fascinated me.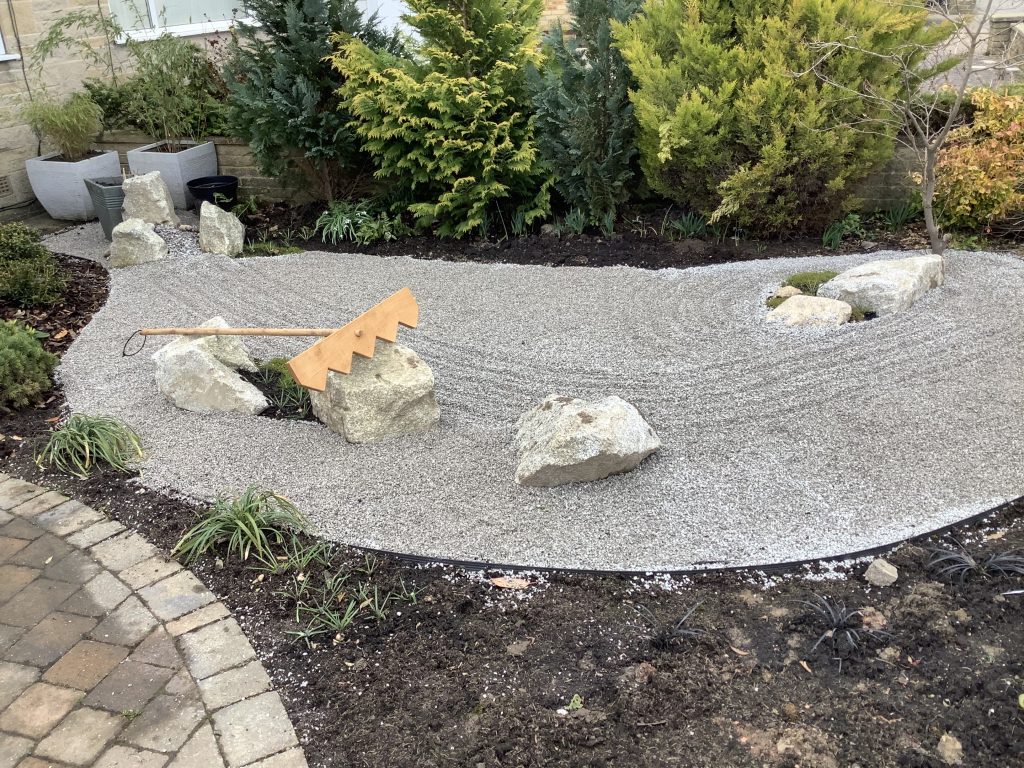 Well, back to Covid, and I got myself a project (naturally) for Autumn and Winter last year, as part of the lockdown. I changed our small front garden completely from a conventional (very mossy) lawn into a Zen Japanese-ish garden.

I've always thought that front gardens were a bit of a waste of space, apart from keeping the front door away from the pavement! However I have seen some lovely Japanese gardens while abroad (Vancouver, Chicago and Sydney come to mind), and though these were a lot larger than my little garden, a DVD of Monty Don in Japan clinched it for me. I just had to try.

So, with a bit of gentle mockery from the Probus walking group, where the conversation moved away from Tim and his privet hedge towards my travails in designing (a bit of a strong word for what went on) and constructing the garden.
It is meant to recreate a stream (in gravel) with river boulders (Cornish granite!) and a lot of bamboos and evergreen bushes forming a backdrop (Plus a couple of the mandatory miniature Acer trees)
The 'icing on the cake' is the use of a special Japanese rake to form the image of the flow of the stream and some eddies around the rocks. [The rake is just there for the photo!]
Yes I know it's not quite finished yet – with a bit more planting and certainly some tidying up of gravel…. I'm not sure I've got it right, but it was creative fun at a time when there wasn't (isn't) much about. I do change the 'stream' from time to time (it's meant to be very therapeutic).

It has revolutionised my relationship with the neighbours and passers-by. Most often-asked questions are: Is it a Japanese garden? [Yes – ish!] and: 'Do you rake it every day?' [No!].
Unspoken questions include 'Have you lost your tiny mind! [No?]