From time to time, we may be able to offer tips to help survive the strains of self-isolation. They won't necessarily be circulated in a round-robin email, so you may wish to check this page from time-to-time; the most recent items will be at the top. We will not, however, attempt to duplicate the official guidance and instructions that comes at us continually from the government and authoritative sources such as the NHS and the BBC
22nd May: As promised a couple of weeks ago, Gill Hovell has now provided more details of planned online courses. More information is available here, and I encourage you to read it if you have the slightest interest in the subject.
6th May: Some of you will remember archaeologist Gill Hovell, who spoke to us a few months ago about life in ancient Rome. If you're looking at something better than daytime TV to exercise your minds, you might like to know that she is planning a variety of online courses. Her latest newsletter says that the first of these will be released in a few weeks' time, and the plan is to create a wonderful variety of high quality courses that will take you on an exploration of eras, sites, civilizations and literature. She also has a new series: A Sense of Place.  This gives a richly illustrated and atmospheric archaeologist's stroll through Troy and Bronze Age Mycenae.  Other great destinations will follow.
In other news, the Pennypot Lane tip (but not the Wetherby Road one) will be opening daily, 8:30am to 5pm, from today. If you have rubbish (all those Amazon boxes?) that you really MUST get rid of then go there, but expect queues and strict social distancing.
29th April: More from Chris McDevitt, who is battling nature in Birstwith whilst waiting "patiently" for a swarm to repopulate one of his hives that was upended by an easterly. Chris tells me that, for self-isolating people in the area, Birstwith Village Friends can help with picking up shopping, posting mail, urgent supplies including prescriptions or even with a friendly phone call. They currently have a team of over 60 friends within the village but please note that they are only arranging deliveries from The Dale Stores and The Station Hotel in Birstwith.
The Dale Stores are also accepting orders directly, preferably via their online form at www.dnhwrd.com/dalestores or via telephone between 9.30am-4.00pm on 01423 770271. If you are self-isolating or vulnerable,
please place your order and a Friend will deliver.
The Station Hotel is currently offering a take-away service from Tuesday to Saturday. This is available to everyone, however, they are running a lunchtime delivery service for those who are self-isolating or vulnerable only. Please call 01423 770254 between 4.30-7.30pm the evening before to place your order and a friend will deliver to your doorstep. Visit http://www.station-hotel.net/menu/take-away-menu/ to see the menu. To place an order for delivery on Tuesday lunchtime, please call between
11-12 noon or the previous Saturday.
27th April: Chris McDevitt tells me that he has had a good service from Multihope at https://order.multihope.co.uk/ and Delifresh via https://www.facebook.com/Delifresh-Wetherby-256779124743611/. Black Sheep Brewery are also apparently running a good home delivery service from https://www.blacksheepbrewery.com/shop/. Own the down side, I checked Daleside Nurseries in Killinghall today, and they seem to have been overwhelmed and given up on home deliveries – yesterday their website said that they would restart today, but it now makes no mention of a delivery service, which is a great shame. It might be worth keeping an eye on them in the future, though.
16th April: Deliveries and Garden Essentials. Here are a couple of helpful documents that have also been distributed to members by email: A list of food and other necessity suppliers from the Harrogate Supporting Older People project, and a flyer from Knaresborough Nurseries regarding deliveries of plants and other gardening essentials. (Both open in new tabs)
1st April: Harry's Tours. Many of you will remember the recent talk by "Harry", the local walking tour guide. Obviously, his tours have stopped for now, so he has now branched out into YouTube tours of Harrogate. They're well worth a few minutes of your time at https://www.youtube.com/watch?v=H4coYV63lmE&list=LLPCSd4Kjc23XxR5O9F-4nwg&index=2&t=123s
28th March: Support for the Isolated. If you're feeling particularly isolated, and maybe a bit lonely, at this difficult time, Community First Yorkshire have a web page with some useful guidance and links to various support organisations.
26th March: Don't Get Caught by the Scammers. Inevitably, the crisis has brought out the scammers and the fraudsters. This page contains up-to-date ActionFraud advice to help you avoid becoming a victim.
26th March: Potential Sources of Help on Harrogate District. This link takes you to the local voluntary services, who may be able to help you is you have a particular concern.
26th March: Is is Covid or just a Cold? A handy chart from Boots that compares the Covid-19 symptoms with other chest problems, such as flu or the common cold: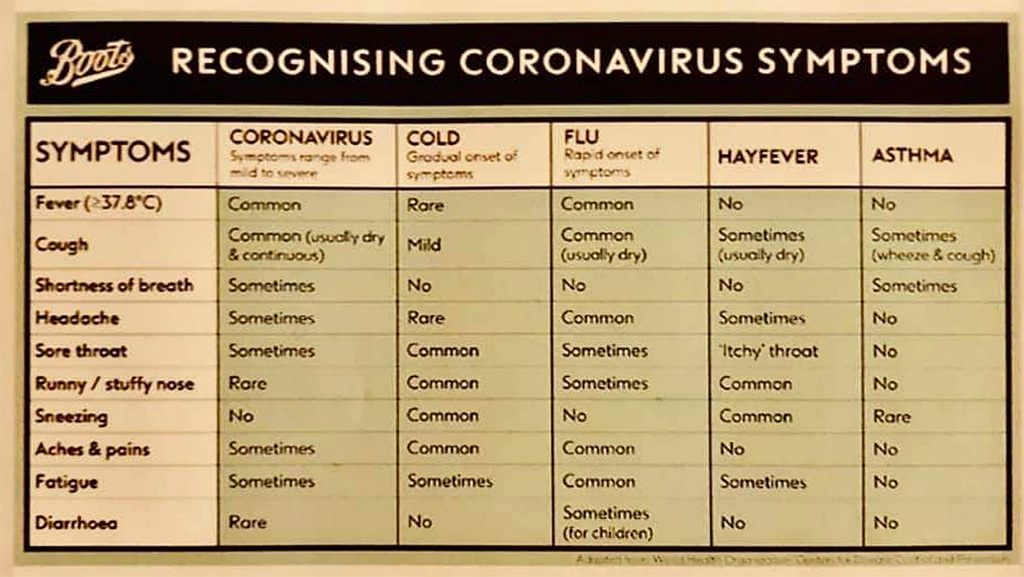 23rd March: Garden Seeds by Mail. David Graham points out that it is undesirable to go to garden centres and other sources that you might normally use for your spring seeds. An alternative mail order service is available from Thompson & Morgan, a good seed supplier via a link to https://www.hotukdeals.com/deals/plan-for-long-term-isolation-all-veg-seeds-1-or-less-3423397. If you use the promotional code TM_TN1464W, you can probably recover the postage cost. Be aware, however, that I don't know how long that code will be valid for.
22nd March: Harrogate Borough Council. HBC have a comprehensive set of web pages here, covering both the impact on local services and on the voluntary services that are available.