Another delightful five mile walk in upper Wharfedale – cunningly different from the similar walk we took in November (see an earlier Musing), being shorter (hurrah!), not including Burnsall, and having very different weather.
One of the challenges of walking some miles away from Harrogate is that you never know what the weather will be like when you get there! It's always a bit of a gamble! The forecast was suggesting scattered showers, and the skies were alarmingly grey on our journey to Linton – but it stayed fine throughout the walk.
For our group of ten Probus walkers, gloves were definitely optional, and trudging up quite a few hills helped us maintain a good temperature. The Falls themselves are always worth a linger, being attractive in most weathers. One of us could recall having seen, on an earlier occasion, trout jumping the falls as they made their way upstream.
A pleasant walk along the riverside, with a brief coffee break next to the pedestrian 'suspension' bridge across the river. The engineers and sailors among us started to distinguish between pitching, rolling and yawing in attempting to explain the various cables controlling the movement of the bridge as we crossed. I think there needs to be a bit more focus on controlling the yawing! (but no such need to control the jawing!)
Comparisons were inevitably made with the Millenium 'wobbly bridge' in London wrt cost and beauty!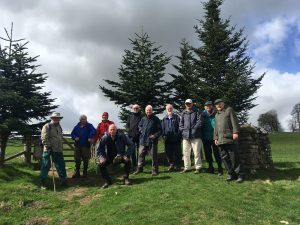 We crossed many fields, full of gambolling lambs, and walked along quite narrow country lanes bordered by high stone walls.  The sun was now fully out – it was even rather warm – and the views of the countryside were magnificent.
Among the many very pleasant conversations we had was a bit of a debate (inconclusive) about how far the distant hills were. Soon enough we commenced our downward stroll towards Linton and the Fountaine Inn for an excellent lunch.
This walk is definitely a contender for 'best walk of the year', helped just a tad by the lovely weather.
Maybe summer is here at last…?